CONTACT LENS EVALUATIONS AT LENZA EYE CENTER
EXPERIENCE THE JOY AND COMFORT OF EXPERTLY FIT CONTACT LENSES
Not all contact lens evaluations are the same because not all eyes have the same shape. At Lenza Eye Center we specialize in both straight forward contact evaluations, and difficult contact lens evaluations. Our optometrist utilizes advanced diagnostic equipment, the latest research-based medicine, and the most advanced contact lens technology on the market. This allows us to deliver exceptionally comfortable contact lenses.
ADVANCED DIAGNOSTIC EQUIPMENT
Contact lens evaluations depend on the shape of the corneal surface. There are many different shapes for contact lenses, because there are many variations to people's eyes. By more accurately mapping the surface of the eye, our optometrist is able to match your individual corneal surface to the best contact lens shape. Our optometrist is also able to catch dry eye disease earlier by utilizing more sensitive equipment to read the tear film layer. All of these factors help us make better decisions about the type of contact lenses you should wear.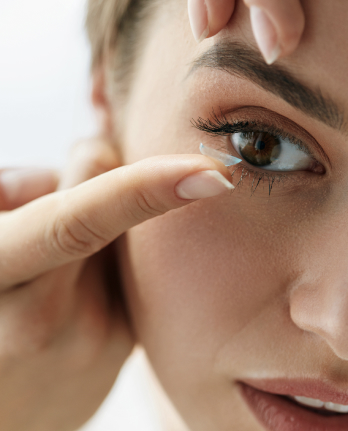 WE UTILIZE THE LATEST CONTACT LENS RESEARCH IN OUR EVALUATIONS
Scientific Information about contact lenses doubles every three to four years. Information about the contact lens material, tear film research, surface eye disease, and hypoallergenic contact lens solution can help you see better, give you a more comfortable fit, and increase the safety of your contacts. Our optometrist is continuously involved in utilizing the latest evidence-based medicine in her contact lens evaluations.