BEST LASIK TECHNOLOGY IN PORTLAND, OREGON
Lenza Eye Center uses an ultra fast, precise LASIK technology. Our LASIK surgeon uses a WaveLight® FS200 femtosecond laser. The laser creates the LASIK flap, which is the first step in the LASIK procedure, in as little as 6 seconds. The laser is very precise, has enhanced comfort features, and has numerous safety mechanisms.
The second part of the LASIK procedure involves lifting the flap and changing the surface of the cornea using an excimer. Our LASIK surgeon utilizes the WaveLight® EX500, one of the fastest excimer lasers on the market. Speed, precision, and customization of the treatment is important because it increases accuracy, improves healing time, and has a higher safety margin.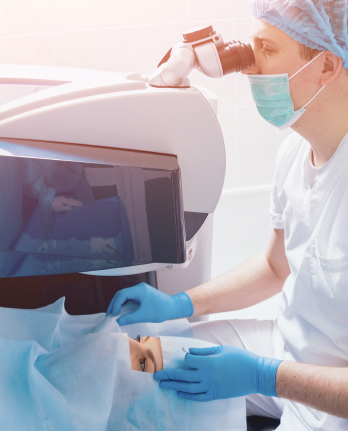 HOW DOES LASIK SURGERY WORK?
If you have blurry vision either from nearsightedness, farsightedness, or astigmatism, it is most likely because the size or shape of your eye is irregular and it just isn't sending images directly onto the surface of your retina like it's supposed to. People with perfect vision have the correct eye size and shape to send the images to the exact right spot within the eye. Many people, however, simply have eyes that are too shallow or too deep, causing images to focus behind the retina or in front of the retina. Others have eyes that are not completely round in shape, causing images to focus on multiple spots of the retina instead of one single spot. As you can imagine, all of these conditions cause blurry vision and are referred to as refractive errors.
LASIK is a type of refractive surgery where the surface of the cornea is changed using a specialized laser. For nearsighted people, the cornea is flattened. For farsighted people, the cornea is steepened. For people with astigmatism, the cornea is smoothed into a more normal shape. The procedure itself takes less than 10 minutes.
WHAT TO EXPECT DURING YOUR INITIAL SCREENING
Our optometrist will take careful initial measurements of your eye and provide a comprehensive eye exam. She will also perform a preliminary corneal map scan. After determining your vision goals and discussing treatment and recovery, you will be scheduled for a precise corneal map scan and a visit to the Laser Center.