LENZA EYE CENTER PROVIDES COMPLETE VISION EXAMS
THOROUGH EXAMS FOR CHILDREN, ADULTS AND SENIORS
You will get expert care from our optometrist who is trained in the latest advances in refractions, eye measurements, contacts lenses and diagnostic equipment. This allows us to serve each person's specific vision needs. Our optometrist is very skilled in examining children, fitting contacts on teenagers and adults, and focusing on catching sight-threatening conditions in seniors.
REFRACTION
Refractions involve measuring your current glasses, followed by a specific computerized prescription measurement device that is about 80% accurate. Our optometrist then refines the measurement by giving you several options, narrowing the possible choices until the difference between your options is so small that you cannot tell the difference.
Refractions can vary with medical conditions, such as dry eye disease. Our optometrist is an expert at minimizing these differences by evaluating and treating dry eye disease using specialized testing.
Children tend to have larger variability in their prescriptions. Our optometrist will verify a correct glasses prescription in children by performing a second refraction after dilation.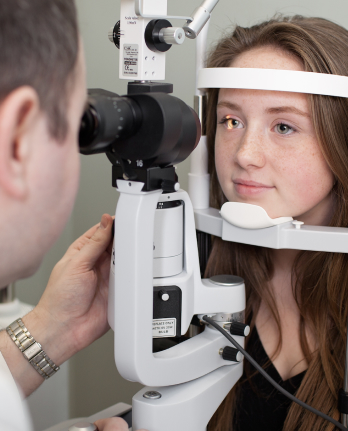 CHECKING YOUR EYES WITH A MICROSCOPE
Our optometrist will examine your eyes with a microscope to check for any eye conditions that might limit your vision. Specialized lenses are used to magnify the tiny structures in the back of the eye and screen you for retinal detachments, diabetic disease, high blood pressure, glaucoma, and other conditions that can result in vision loss.