DIABETIC EYE EXAMS AT LENZA EYE CENTER
THE "REAL" CURE TO DIABETIC BLINDNESS
Diabetes is among the top three causes of permanent blindness in the United States. Oregon residents have similar statistics. Sadly most of the diabetic vision loss is preventable, yet thousands of Oregonians go blind every year. Often, people go on disability and lose their jobs and their health insurance benefits.
Catching diabetic eye disease early is the single most effective way of treating and preventing diabetic vision loss. Yet more than 40% of diabetics do not get a regular annual dilated eye exam.
Lenza Eye Center is committed to providing the most comprehensive diabetic eye exam. At Lenza, all diabetic exams come with the following:
A check for your best vision with lens correction
A dilated eye exam
Detailed drawing of the retina
Comprehensive counseling of diabetic eye disease (diabetic retinopathy)
Counseling about how to prevent further deterioration
Letter to your primary care doctor
Advanced high definition retinal laser scan (if diabetic eye disease is present)
Advanced high definition retinal photography (if diabetic eye disease is present)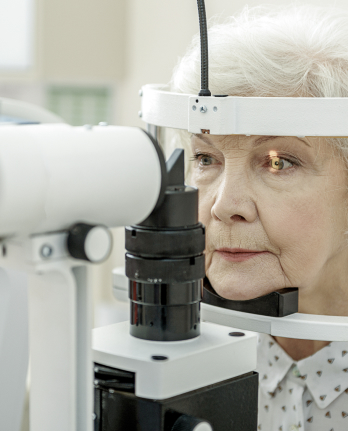 YOUR BLURRY VISION AND DIABETES
There are multiple causes of blurry vision from diabetes. Here is a partial list of possible causes:
Change in your glasses
Temporary changes in your glasses prescription from blood sugar fluctuations
Cataract formation
Retinal swelling
Retinal bleeding
Retinal detachment
Glaucoma
If you are a diabetic and notice blurry vision, it is advisable to see our eye doctors for a diabetic exam. The symptoms between blurry vision from new glasses and blurry vision from diabetic eye disease are very similar. Only a comprehensive eye exam can distinguish a change in your glasses from worsening diabetic eye disease.
Lenza has made it very easy to an exam. We offer extended hours on the weekdays, and we accept most types of insurance plans. If you have no insurance, Lenza has special discounts. Maintain your vision and your peace of mind. Screening with Lenza Eye Center will save you a lot of expense, and time, and may even save your vision.
HOW TO MAKE AN APPOINTMENT
You can call our main phone number and ask for a diabetic eye screening, or you can use one of the Schedule an Appointment buttons on this site to make an appointment online. If you have medical health insurance, please have that information ready. If you have no insurance, then call and inquire about our special discounts. Lenza Eye Center is committed to your health and well being so make your appointment today.