LENZA OPHTHALMOLOGIST: ODAY ALSHEIKH M.D.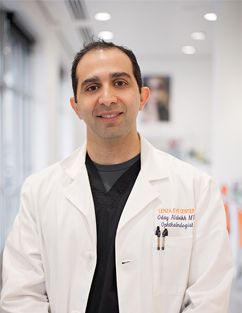 GET CONFIDENCE AND PEACE OF MIND WITH DR. ALSHEIKH
Currently Dr. Alsheikh is seeing Oregon patients on a limited basis. Click here to learn more about Lenza's full-time ophthalmologist Dr. Silvio Gurdian!
Lenza Eye Center provides complete eye care from vision screenings to treatment of visual disorders. Dr. Alsheikh specializes in the treatment of cataracts, glaucoma, corneal diseases, and general ophthalmology. The patients at Lenza Eye Center receive the latest treatments and management of vision disorders from an experienced and compassionate eye surgeon.
COMMITMENT TO QUALITY IN HEALTHCARE
Dr. Alsheikh is the medical director for Lenza Eye Center. He has extensive experience in quality management for the healthcare field. He has served as the Quality Care Committee Chairman at the University of Texas Medical Branch and currently oversees quality management at a large multi-specialty ophthalmology clinic in San Antonio. Lenza Eye Center was designed to provide the highest level of care by creating a modern high-tech eye care facility based on the needs of its patients. It is Dr. Alsheikh's commitment to patient care that drives Lenza Eye Center to the top of the industry.
TREATMENT AND DIAGNOSIS OF COMPLEX VISUAL DISORDERS
Patients faced with vision loss entrust their eye care to Dr. Alsheikh. He has earned a strong reputation for treating complex conditions. He has diagnosed and treated patients with severe glaucoma, severe dry eyes, corneal dystrophies, inflammatory ocular disease, and complex cataracts. In addition, Dr. Alsheikh specializes in LASIK surgery and post-LASIK management.
EXPERIENCED SURGEON
Peace of mind with an experienced and compassionate surgeon. Through his corneal fellowship training and quality management background, Dr. Alsheikh has built a reputation as a skilled surgeon. From LASIK surgery, to corneal transplantation, to premium lens implants and complex multidisciplinary eye procedures, Dr. Alsheikh has helped patients with different surgical needs. Here is a list of eye surgeries Dr. Alsheikh regularly preforms:
Cataract Surgery
Complex Cataract Surgery (Mature Cataracts, Traumatic Cataracts & High Risk Cataract procedures)
Partial Corneal Transplants (DSEK, DALK & DMEK)
Full Corneal Transplants (PKP)
Premium Lens Implants
Complex Intraocular Explantation with Scleral Fixated IOLS
LASIK & PRK
LASIK flap repair
Pterygium Surgery
Minimally Invasive Glaucoma Surgery
Trabeculectomy
Glaucoma Shunt Devices
Anterior Vitrectomy
Ocular Surface Reconstruction
Anterior Segment Reconstruction
Surgery to treat Trabeculectomy Complications (Leaking Bleb repair)