Minimally Invasive Glaucoma Surgery (MIGS)
MORE COMFORT, QUICKER RECOVERY, & EQUIVALENT SUCCESS RATES
Glaucoma is a condition that damages the optic nerve due to high pressure inside the eye, and it is the second leading cause of blindness. Lenza Eye Center is proud to offer new FDA approved treatments for glaucoma that can prevent or reduce damage to the optic nerve. Recent advances in surgical devices have produced a number of new glaucoma drainage implants that may reduce recovery time, supplement existing glaucoma drop treatment, or in some cases, eliminate them. With the increase in possible choices, an experienced eye surgeon can make all the difference.
Treatment for glaucoma usually starts with medication drops or laser procedures. If these treatments don't produce the desired results, then a surgical solution may be the best option. Glaucoma treatments today are more customized to your eyes than ever before. Lenza Eye Center can help guide you through the best possible choice for your particular condition.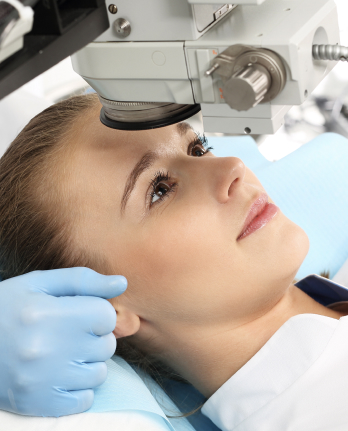 BELOW ARE A FEW MINIMALLY INVASIVE GLAUCOMA SURGERY (MIGS) TREATMENTS THAT YOUR EYE SURGEON MIGHT RECOMMEND
1. iStent: Designed for mild glaucoma, the iStent can be combined with cataract surgery and may be as effective as taking one glaucoma medication drop. The iStent is a tiny implant that improves the natural drainage of the eye in order to reduce the pressure inside the eye.
2. Canaloplasty: This is a non-penetrating surgery that reduces the intraocular pressure by promoting the outflow of fluid from the eye through its natural outflow pathway.
3. Goniotomy: This is a surgical procedure in which small areas of the drainage system of the eye are removed to create more openings for the fluid in the eye to drain. .
Frequently asked questions
1. What is the typical recovery for a minimally invasive glaucoma surgery (MIGS) procedure?
Every patient is different, but the recovery time is generally about one week.
2. Does my insurance cover the treatment?
More insurance programs are recognizing the value of minimally invasive glaucoma surgery (MIGS) procedures. Some procedures are covered, while some procedures are in the beginning stages of getting approval. Each insurance company is different. Our billing department will work with you and your insurance company to determine the level of coverage.
3. What is the difference between minimally invasive glaucoma surgery (MIGS) and traditional glaucoma surgery?
Both surgeries are incision based, therefore they carry some small risk of infection as well as other risks of intra ocular surgery. Generally, bleeding from minimally invasive glaucoma surgery (MIGS) is much less than traditional surgery because the incisions are smaller. Traditional surgery uses a larger incision in order to create greater access to the eye. This allows the eye surgeon to reduce the eye pressure the maximum possible amount. Traditional glaucoma surgery remains the gold standard for severe glaucoma where maximum pressure reduction is required to save the vision.