PEACE OF MIND AND ENHANCED COMFORT WITH THE HELP OF GREAT SURGEONS
Your eyes and your vision are extremely important to you, and we are humbled by the trust that you instill in us. Lenza Eye Center understands that great cataract surgery outcomes require exceptional surgeons combined with exceptional healthcare delivery. Our cataract surgeon is among the most experienced in the Portland area based on the number of cataract cases performed, as well as the type and complexity of the cases. As a result, our Lenza surgeon has the expertise to treat a variety of conditions and patient needs. We offer a number of options including complex cataract surgery, premium lens cataract surgery, and cost effective lens options.
Cataract is a condition where the lens in the eye becomes cloudy as a result of proteins that clump together. This causes blurry vision that can be similar to looking through a dirty windshield. Cataract surgery is a process where the clouded lens is removed through a small incision in the eye, and a new artificial lens is then inserted.
BELOW IS A LIST OF CATARACT SURGICAL OPTIONS OFFERED TO OUR PATIENTS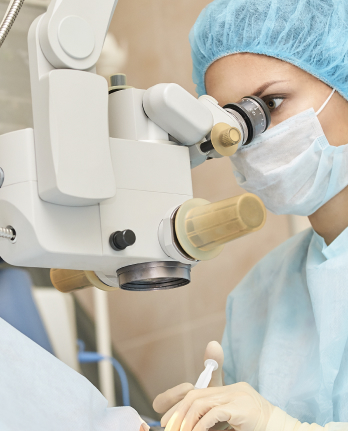 1. HIGH RISK OR COMPLEX CATARACT SURGERY
This encompasses patients who have only one good eye, or who have certain types of cataracts with increased risks of adverse events.
2. REGULAR CATARACT SURGERY THAT IS COST EFFECTIVE
The majority of patients simply want to see better. They don't mind wearing glasses after surgery and are seeking quick recovery with exceptional safety and minimal cost. Lenza Eye Center understand this and is able to deliver great outcomes with reasonable out of pocket costs.
3. PREMIUM LENS IMPLANTS
This option is for patients who are seeking to reduce their dependence on glasses after cataract surgery. We are experienced with the latest multifocal intraocular lenses, which can allow some patients to see distance, intermediate, and near with the implanted lens. We combine this type of cataract surgery with laser vision correction to produce quality outcomes.
While cataract surgery is considered one of the safest and most effective surgical procedures, it is always comforting to know that an experienced cataract surgeon will care for your eyes. Lenza Eye Center is committed to increasing the safety profile and comfort level of your surgery.