MACULAR DEGENERATION EXAMS AT LENZA EYE CENTER
MAINTAIN YOUR INDEPENDENCE WITH MORE VISION SOLUTIONS FOR YOUR MACULAR DEGENERATION
Lenza Eye Center offers multiple solutions for macular degeneration patients. Our advanced retinal scans can detect minute changes in your retina and help your eye doctor tailor a more customized solution for your visual needs. Macular degeneration can slowly or quickly cause the retinal cells to degenerate.
Wet macular degeneration can cause rapid and permanent vision loss. Because there are good treatment options today, seeing your eye doctor is important. If wet macular degeneration is caught early you can be referred to a retinal specialist in a matter of days.
Dry Macular Degeneration causes your vision to decline slowly most of the time. It is still possible to develop severe vision loss, it is just less common. Your Lenza eye doctor will help explain the different options for you.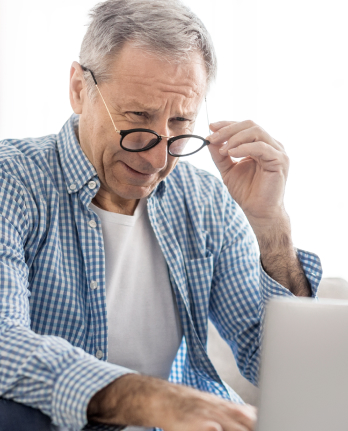 MACULAR DEGENERATION EXAMS AT LENZA EYE CENTER
Each macular degeneration exams involves the following:
Check up for best corrected vision with lenses
Dilated exam
Detailed drawing of the retina
High definition retinal scan
High definition retinal photography
Visual function questionnaire
Comprehensive counseling about macular degeneration
Instructions on weekly monitoring of your vision