Do You Need a Diabetic Eye Exam?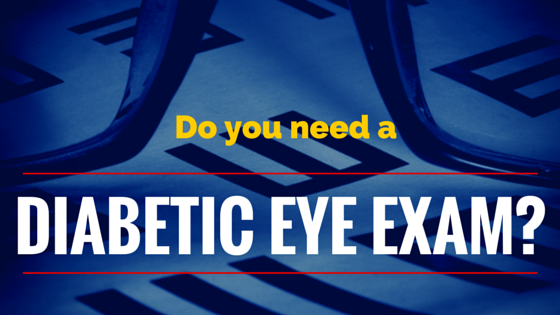 There are a number of medical complications that arise from diabetes. One thing that many forget, though, is that diabetes can damage your eyes.
For one, having diabetes increases the likelihood that you'll develop glaucoma over time. In addition, there's a condition called diabetic retinopathy. This condition is created when diabetes causes blood vessels in your eyes to become damaged, leading to a number of eye and vision related issues.
Because of these reasons, it's very important that anyone with diabetes get regular eye exams. In fact, it's recommended that these individuals get diabetic eye exams at least once every one or two years. These eye exams should be even more frequent if it's been revealed that an individual's diabetes has already led to eye-related issues.
The reason that it's so important to get diabetic eye exams is simple. Only through regular and timely eye exams can any issues be identified and diagnosed. What's more is that early diagnosis is often the key in treating any diabetic eye-related issues and ensuring that they don't worsen over time.
If you need a diabetic eye exam in the Portland area, then you should pay Lenza Eye Center a visit. We have some of the best eye doctors in the Portland area on our staff, and they know how to properly examine, diagnose and treat any eye-related issues that diabetic patients are having. In our caring hands, these patients, as well as all of the others that we see, get the treatments that they need.
To schedule a diabetic eye exam with Lenza Eye Center, simply give us a call at (503) 833-2662! Otherwise, feel free to come by our office. We're conveniently located at the Argyle Square shopping center in Wilsonville!
Source: